The Ladies HVL 40-9ers Golf Club was formed in 1982, the idea and by-laws credited to Lydia Reid. The goal of the club is to provide an opportunity to learn the game of golf, to have fun and to play by the rules. It offers newcomers to the game an opportunity to play along with and learn from the more seasoned players.
Thursday was the decided play day and our charter (which was received by the HVLA Board of Directors) was the first for an organization in HVL. The name 40-9ers was chosen to represent the 40 charter members of course playing 9 holes. The color red was chosen to represent the San Francisco 49er Football Team and the color gold to represent gold mines. White was later added and gold eventually dropped. Look out on the course on any Thursday morning in HVL and you will know it is 40-9er day; red and white is in abundance.
Lydia Reid, our founder, did not stop with our club. She set her sights on other areas within the Redwood Empire to organize more 9-hole clubs. Eventually the Women's Redwood Empire Niners (WREN's) was formed as the parent organization of the 9-hole clubs. Upon her passing, Lydia was honored by the 40-9ers with the installation of a flag pole at the HVL Golf Course's No. 1 tee. An engraved rock sits at the base of the pole which simply states, "Many Thanks. Lydia Reid founder of the 40-9ers and WRENs".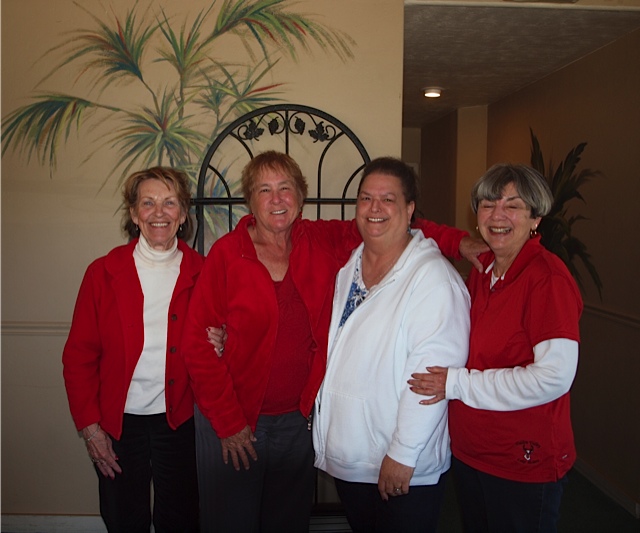 2017 Officers
Captain: Deby Braun
Co-Captain: Linda Millard
Secretary: Julia Yamashita
Treasurer: Denyse McCracken
Standing Committees
Membership: Adele Curtin
Publicity/Historian: Liz Cummesky
Handicap: Nan Rudy
Rules: Nan Rudy
Parlimentarian: Elaine Fauser
Social: Diana Schneider
Tournament: Roberta Villnow
Assistant:
Majors/Jack & Jill
Wrens/PWGA
Special Committees
Eclectic
Golf & Greens
Sunshine
Telephone
40-9ers Book
Dates To Remember
Under Construction
Wrens Events
Under Construction
PWGA Niner Events
Under Construction