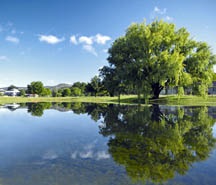 Hidden Valley Lake Golf Course is open to public play, rain and shine, except for rare snow storms. It was built along with the rest of the community in the late 1960's based on a Billy Bell Jr. design and is the only 18-hole championship course in Lake County. It has a relatively level, long-par front nine and a back nine that weaves between oak trees on hilly terrain. The 15th tees have spectacular views of Mt. St. Helena with a 250-foot drop to the fairway. Luckily, a modern cart path to the bottom replaced the old rope swing. This par 72 course can play to nearly 6,700 yards from the championship tees and offers excellent playing conditions year round.
Covering 135 acres with an average greens size of 4,700 square feet, this lush course has 32 sand bunkers and two acres of ponds and water hazards. Please brush up on your 'lost ball' water-hazard rules as the resident golfer-loving otters have debs on most balls. The No Feeding Rule does apply. Practice facility includes a 7.5-acre driving range for the "show" game, and practice greens to improve the "dough" game. Private, group, and junior lessons are available from the PGA professional staff. The golf shop is housed in a 7,000 square foot building that also contains a full-service restaurant and fully stocked 19th hole, affectionately and often appropriately called, Mulligan's.
Fabulous, head-turning vistas on this par-72, 6708-yard jewel include special touches like the signature 15th hole's 250-foot drop to the fairway below. Five water hazards, four different tee placements, nearly year-round sunshine and 100-year-old oak trees lend the kind of soul-soothing character one can build a weekend around.
Do you play golf at any of these or other nearby locations?
Golf Davis CA
Golf Fairfield CA
Golf Lake County CA
Golf Marin CA
Golf Napa CA
Golf Roseville CA
Golf Sacramento CA
Golf Santa Rosa CA
Golf Sonoma CA
"You can drive twice as far but not have half as much fun as you can at Hidden Valley Lake Golf & Country Club." At Hidden Valley Lake Golf & Country Club we offer an adjacent campground including R.V. hookups, boating and fishing at Clear Lake, as well as wine-tasting, hot air ballooning, hot springs, a glider port and other delights nearby. So what are you waiting for?! Book Your Tee Times Now!
Give us a call today (707) 987-3035 at set up your tee time and enjoy our 18-hole Championship course, the only one in Lake County. Rather email us? Email golfinfo@hvla.com.
Click on images below to enlarge