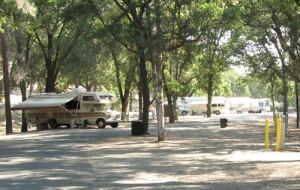 If you're looking for a quiet, comfortable and clean campground, you'll want to spend more than a night at Hidden Valley Lake RV Park/Campground on Hartmann Road, unarguably the best location in south Lake County. On the way here, you'll undoubtedly pass any number of exquisite vineyards. An 18-hole, championship golf course, (with special Camper's Rates), driving range, full restaurant and lounge is just across the entrance road to the campground. With 50 tent sites, 18 full hookups, new restrooms and showers, you'll enjoy shady sites, friendly neighbors and other amenities available at this camping oasis.
Nighttime skies offer unique, crystal-clear star-gazing thanks to the cleanest air in California, third cleanest in America. Tomorrow, you may awaken to the special hiss above you as frequent hot air balloons arise from nearby launch fields. From winery strolls to strenuous hikes, week-long visits will only begin to introduce you to the plethora of activities that surround us. We're open all year!
We invite you to visit us–where a short vacation just might introduce you to your new hometown. For more information, call or email Hidden Valley Lake Association, (707) 987-3138, or golfdir@hvla.com for special Stay & Play Camping Rates for a night or a week. See our ad in Trailer Life Directory. Watch a brief tour here.