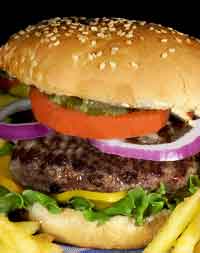 With an uncanny ability to whip up authentic dishes using fresh and local ingredients, the Greenview chefs invite you to savor the extensive menus: Greenview Menu.
Prep your mouth with starters like Honey Sriracha Wings with blue cheese dip and crunch jicama sticks, or Bacon Wrapped Prawns with chipotle aioli. Try some old standbys like our hand-cut Kennebec french fries with garlic parmesan or an amazing Caprese salad with heirloom tomatoes, fresh mozzarella, micro basil and a balsamic vinegar reduction. A daily-made partial list of dishes include grilled pork porterhouse chop, bacon wrapped meatloaf, penne bolognese, and the best hand-formed, 1/2lb. Angus beef Hidden Valley Lake burger made the way you like them. Ocean-friendly taste-bud-stoppers like pan-seared King Salmon will have you exclaiming their virtues with your mouth full.
With daily specials and weekend favs worthy of euphoric shouts, sampling the new Greenview menu will be like shooting a hole-in-one every day. And to add to your delight, order your favorite wine or cocktail from the Greenview's bar.
Whether you are a certified oenophile or attempting to shed the experience of your latest boogie, our bar is the place to relax after your meal. Beer, wine, cocktails and the full Greenview menus are available. Hey, you could drive twice as far and not have half as much fun as you can with your friendly neighbors at the Greenview Bar.