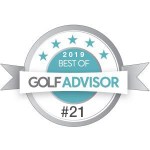 Nestled against spectacular coastal mountains that keep the fog, smog and congestion at bay, Hidden Valley Lake is a golfing oasis in lightly populated Lake County.
Golfing on this Billy Bell (Torrey Pines architect) course means an unhurried pace on 18 richly varied holes, each with its admirers who claim it as the most interesting, or challenging, or beautiful. Fabulous, head-turning vistas on this par-72, 6708-yard jewel include special touches like the signature 15th hole's 250-foot drop to the fairway below. Five water hazards, four different tee placements, nearly year-round sunshine and 100-year-old oak trees lend the kind of soul-soothing character one can build a weekend around.
Just 30 minutes north of Calistoga, Hidden Valley Lake Golf & Country Club offers special Stay & Play and Golf & Wine packages at nearby Twin Pine Casino and at our adjacent campground with R.V. hookups, modern restrooms and showers. There's boating and fishing at Clear Lake, as well as wine-tasting, hot air ballooning, hot springs, and other delights nearby. To schedule tee times call our pro shop directly at (707) 987-3035.
Rated #21 in California
The yearly Golf Advisor "Best-of 2018" list came out this January with its list of the top 25 out of 512 reviewed golf courses in California. Hidden Valley Lake Golf Course, a popular spot with North Bay area golfers, was named #21 with a 4.6 out of a possible 5.0 rating. The Golf Now and Golf Channel sister company said the Best-of lists "are compiled by analyzing the ratings and reviews submitted by members of the golfing community throughout the year. The company uses the Golf Advisor Index logic that weights newer reviews and combines them with a course's weighted subcategory averages."
In Golf Advisor's six scoring subcategories, reviewers rated Hidden Valley Lake a 4.5 or higher in Amenities, Conditions, Layout and Pace. The course was rated a 4.8 in the Friendliness and Value subcategories. The 4.6 average bested several previously highly-rated courses such as the Players Course at Indian Wells Golf Resort and the Stadium Course at PGA West, both in SoCal.
The local 18-hole, Par 72, semi-private/public course covers 140 acres and has been frequently described as "a mostly flat front nine, but the back 9 has lots of slope and requires planning on most holes to have a chance to get on in regulation."
Hidden Valley Lake Golf Pro, Richard Pritchard, said "It's an incredible honor to be named as one of the top destinations to play in California, especially in light of the tremendous competition."